Hey guys! Do I have a treat in store for you! I have Jamie from
C.R.A.F.T.
posting for us today! One she is gorgeous, Jamie you seriously need a pic up on your blog of you, flaunt it girl! Two she is super creative! Third she is all around awesome! Hop on over and check her out, of course after read her great post!!
Take it away Jamie!!

Hi everyone... I'm Jamie

I am so excited to switch places today with Morgan today ...I LOVE her blog :)
So, here is a
little
about me:
1: I don't really like rulers.
2: I love crafts out of recycled materials and everyday objects.

3: Traveling and fried okra make me happy.
4: When I wear socks, I always wear 2 different colors (this is because I am lazy and never put my socks together, I just throw them all in one big drawer :)
C.R.A.F.T.
hosts a
little
party
every
Monday
called: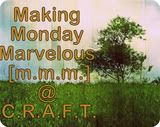 I would love for all of you
wonderful
Meet Virginia readers to
make
Monday's Marvelous
and link up your
brilliant,
crafty ideas:)
a n d

C.R.A.F.T. does kid c.r.a.f.t.s.. check them out
HERE
!
C.R.A.F.T. does home decor crafts...check them out HERE
now, for a fun

little

tutorial...
What can you do with s t r e t c h e d out leggings and a crusty, old pillow?
All you need: old leggings, crusty, old pillow, fabric scraps, string
Wrap pillow with any kind of string.

..this is the only way you will get that pillow in the legging hole!
[you will cut the string out later!]
Stuff pillow in legging...this is kind of

tricky!
Time for embellishments...I just cut circles out of lots of scrap fabric, and laid them on top of each other...




I just sewed right over the circles of fabric in a zig zag pattern...

and then hand stitched them on to the bed roll...
Thank you Morgan for switching places with me for the day!!
Thanks so much for participating in the Tour Jamie! This pillow is TOO stinking cute I am off to make me one right now! Guys you have to check out Jamie's blog it is super super cute you will not be disappointed! Thanks again Jamie! Love, love.
You can find my post
HERE
!