Hey Guys!!
So it's Meet Virginia's first Weekend Wear Party!! Now I don't have an outfit for this week since I was at the lake, and really no one wants to see me in a swimsuit right!
First let me give you some background, I started Weekend Wear because I work from home during the week, hence what is the point of getting ready?? So on the weekends is when I get all dolled and wanted to share/brag about my awesome outfits ;) while also giving great tips!
Feel free to link up whatever outfits you have whether they be past or present!!
I hate to do this but here are the little rules:
~Add a permalink to a specific blog post, not your general address.
~Link back to the party from your post/blog, please ;).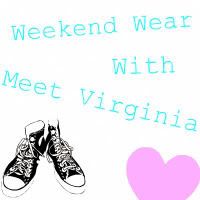 ~Have fun!!

If only one person links up this week it will be a success!! I'm off to another family reunion!! I have a post or so planned for you guys, so don't miss me too much k! Thanks for stopping by! Love, love