Hey Guys!!
It's that time again!
First let me give you some background, I started Weekend Wear because I work from home during the week, hence what is the point of getting ready?? So on the weekends is when I get all dolled and wanted to share/brag about my awesome outfits ;) while also giving great tips!
Better late then never right....?
Here is what I wore this past Sunday to church:
Outfit Deetz:

~Gap White Denim Skirt: Thrifted, $4.00!!
~Vintage Floral Blouse: Thrifted, $3.00!!
~Patent Teal Heels: Thrifted, $4.00!!
~White Bauble Necklace: Kohls, $2.00 CLEARANCE!!

~Teal Braided Belt: Forever 21, $3.00!!
~Teal Bamboo Inlaid Nixon Watch: Gift
~Fakey Earrings: Kohls, $2.50 CLEARANCE!!

Tip:
~I get comments a lot from lovely people who are sort of afraid to shop for clothing at thrift stores. BELIEVE ME I was the same way! It's something that you just need to get over though maybe take baby steps, perhaps buy something small like a belt and build on that! You can save so SO much money shopping at thrift stores, for instance I was at my local DI the other day when I happened on to seriously a MINT pair of Seven jeans for $6.00!! Sadly they did not come home with me because they were too big, I did however go home with a super cute khaki vest for $3.00! Just give it a whirl its fun digging for treasures at the thrift store!
On to the fun!!
Feel free to link up whatever outfits you have whether they be past or present!!
Also they don't have to be what you wore this weekend at all!
Just any fun outfits you want to show off!!
I hate to do this but here are the little rules:
~Add a permalink to a specific blog post, not your general address.
~Link back to the party from your post/blog, please ;).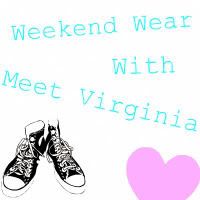 ~Have fun!!

Can't wait to see what you guys have come up with!! Love, love.