Hey Guys!!
It's that time again!
First let me give you some background, I started Weekend Wear because I work from home during the week, hence what is the point of getting ready?? So on the weekends is when I get all dolled and wanted to share/brag about my awesome outfits ;) while also giving great tips!
Sorry guys again guys I don't have an actual picture of myself today my camera was MIA but then it resurfaced!!
Here is the gist of what I wore on Saturday for hottt date with hubby!!
Outfit Deetz:
~Army Green Skinny Cargo Pants: Target, Pretty much FREE with coupon overage! Coupon overage occurs when you have a coupon that is worth more money than the actually item therefor creating a surplus!!! YES!!!
~White Button Up: Kohls, FREE with $10 coupon they mailed to me! The top was actually on clearance for $8.50!! YESSS!!!
~Black Cardigan: Kmart, $2.99 CLEARANCE!!
~Patent Leopard Flats: Payless, $2.00 after coupon plus they were on CLEARANCE!!
~Patent Black Envelope Shoulder Bag: Thrifted, $1.00!!

Tip:

~I get asked a lot where do I find coupons to find such awesome deals! Well I have a subscription to a newspaper that offers tons of coupons and ads to see what is going to be on sale. Also I follow a couple of awesome blogs:
Hip 2 Save
, and
Totally Target.
These blogs pretty much do all the work for you all you have to do is read them and shop!! Easy enough right?? Couponing probably takes me about 2 hours max a week to do, and it saves us hundreds of dollars!! Love, love, love, love that! Have anymore questions about couponing or how I save money let me know I am more than happy to help!!
On to the fun!!



Feel free to link up whatever outfits you have whether they be past or present!!

Also they don't have to be what you wore this weekend at all!
Just any fun outfits you want to show off!!



I hate to do this but here are the little rules:



~Add a perma-link to a specific blog post, not your general address.

~Link back to the party from your post/blog, please ;).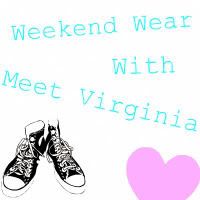 ~Have fun!!

Can't wait to see what you guys have come up with!! Love, love.