Now that we have "
I'm a Thriftaholic
" we thought we'd share weekly, our thrifted treasure! Thrifted treasure could be an item(s) you have thrifted: thrifted clothing you've worn in outfit posts, thrifted home decor, really any thing you thrifted and want to show off is welcome!
Remember this really is a support group in reverse, we don't want to kick our thrifting habits, we want to embrace them and show them off. And most importantly we want to have fun in the process!
So if you have a thrifted find that you are dying to share, this is the place. Every Tuesday we will have the: "Thriftaholics Weekly Link up."Where you will be able to link up anything you have thrifted whether that be something in your outfit post, a piece of furniture, anything your little thrifted heart desires. There are no limits on what can be linked up, it just simply needs to be anything you've thrifted and fell in love with. Bottom line: If you thrifted, we want to see it. Simple enough right?!
Thanks to all those who linked up last week, it was a blast seeing all of your thrifted finds! I had to narrow it down to my pick of the week (which was super hard you guys are awesome)!
My Thriftaholic of the week is:
W from The Pretty Life Anonymous!!
Now if you are new to this blog you must know that I LOVE
The PLA
, especially my girl W. We are actually friends in the real world...Yes, it is true I have seen their faces, and they are gorgeous! Why they choose to cut them off is beyond me! Ok enough butt kissing back to thrifting business, W thrifted that
adorbs polka dot top
, now even though that
berry cardi
wasn't thrifted I feel that it still deserves it's day in the sun kudos on MV. Super cute right? Go you W, you sure are pretty!
Don't forget to check out
Ana's
pick for the week. It's a good one!
The guidelines for linking up weekly are easy:
Link up a post about your thrifty finds, be sure to link the direct post.

Place one of these badges on your blog post you are linking up with.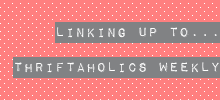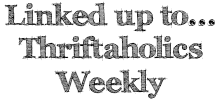 We are so excited to see what you've thrifted!